About the Greater Eastern Obesity Surgery Clinic
Our team believes that people should have access to the weight loss strategy that works best for them and for some people that involves surgery. We work with our patients to help them achieve their health and lifestyle goals.
Dr Zeev Duieb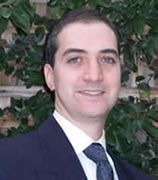 Dr Zeev Duieb is a General Surgeon with a specialist interest in Bariatric (Obesity) Surgery. Melbourne born Dr Duieb studied at Monash University and completed his Medical and Surgical training in Melbourne.
Prior to establishing his own private practice in Berwick & Knox, Dr Duieb worked with one of Australia's busiest weight loss surgery practices.
In addition to his busy Private practice Dr Duieb continues to work in the public system with a Clinical appointment to Dandenong Hospital and Honorary Adjunct Lecturer (Academic) Monash University. He is involved in specialist training of young Surgeons.
Ilanit Horin
Ilanit is our Practice Manager. Ilanit will be your first point of contact and with her extensive practice experience will be able to assist you through every step of the process.
Tanya Wilson
Tanya is a registered Psychologist with experience consulting patients under-going life changing surgery. Tanya will work with you pre & post surgery to ensure a smooth transition to your new life. Learn more about Tanya here
Helen Bauzon
Helen is an experienced Consultant Dietician who has worked with over 2,500 Gastric Band patients. Helen will assist you develop strategies to ensure the optimal outcome from your Gastric Band. Learn more about Helen here.